HAgglunds 2.7 CDI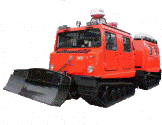 View Picture Gallery
If you're doing business north of the 60th parallel, you need a vehicle that is rugged, reliable and safe; a versatile vehicle that can get you where you need to do business regardless of the terrain, the season or the weather that day. You need the Hägglunds 2.7 CDI.
Powered by a modern Mercedes-Benz 2.7 litre Common Rail Turbo-Diesel mated to a five-speed 'Tiptronic' automatic transmission, each Hägglunds 2.7 CDI offers business customers abundant power and torque to get the job done while ensuring excellent fuel economy and low emissions.

The vehicle is actually two units joined by a unique, hydraulic steering system which gives the Hägglunds 2.7 CDI excellent manoeuvrability in all types of terrain and conditions. The trailing unit can be configured in a variety of ways: Use it for on-site maintenance with a mobile crane, flatbed or removable container. Or, as secure, comfortable crew transportation. Or, for rapid emergency response. Need to clear snow, we offer a six-way retractable plow. This versatility makes the Hägglunds 2.7 CDI ideal for Mining, Energy, Forestry, Exploration and Tourism operations.

Extremely light-footed, the Hägglunds 2.7 CDI easily manoeuvres over soft snow and tough terrain, regardless of the weather. Streams and rivers in your path. No problem. The Hägglunds 2.7 CDI is amphibious. Steep slopes and gullies ahead. Its abundant torque and two-speed transfer case allows the Hägglunds 2.7 CDI to negotiate these with ease. In a nutshell, it goes where terrain and extreme weather makes access by other all-terrain vehicles next to impossible.

Every Hägglunds 2.7 CDI is meticulously-built to your specifications by our German partner Hellgeth Engineering, a world leader in the remanufacture of Hägglunds vehicles. And, each is backed by a one-year power-train warranty, regardless of mileage or hours of use.

So, if you're business takes you to Canada's north, you need a vehicle that you – and your people -- can count on. You need the Hägglunds 2.7 CDI.
Hagglunds 2.7CDI at a glance
Custom-built to order
Configured to business needs
- Ideal for Mining, Energy, Forestry, Exploration, Tourism
Powered by a modern Mercedes-Benz 2.7-litre Common Rail Turbo
- Diesel, Tip-tronic transmission & two-speed transfer case
- 163 hp
- High torque at low revs
- Fuel efficient/Only 9 litres/hour
- Meets Canadian emission standards
Go anywhere capability
- Flexible rubber tracks minimize damage to environment while providing business with unmatched access in all terrains, weather conditions
- Fully amphibious
One-year drive-train warranty regardless of mileage or hours of use
Technical Data
Gross vehicle weight - 6200 kg
Payload - 2250 kg
Length - 6.9 m
Width - 1.87 m
Height - 2.3 m
Ground Clearance - 35 cm
Engine - Mercedes 2.7 litre Common Rail Turbo Diesel
Max. Output - 163 hp
Cylinders - 5 inline
Fuel - Diesel
Fuel Consumption - 9 litres per hour
Max. Speed - 55 km/h
Transmission - Five-speed automatic 'Tiptronic'
Grade ability - 60% (hard surfaces) 30% (Snow)